Classical Training Meets Contemporary Learning
BECOME A PART OF SOMETHING REAL
Real Pilates Teacher Training in Montreal!
Espace Pilates is thrilled to offer Alycea Ungaro's Real Pilates Teacher Training in Montreal, Quebec. We are the first host studio in Canada. This comprehensive and in-depth teacher training is unparalleled in the industry. Few Pilates instructors have the experience that Alycea Ungaro and her team of lead instructors bring to the Teacher Training program, and we are proud to be one of the host studios around the world to train students to this level of excellence!
You are well supported throughout your training and will learn the whole system as intended by Joseph Pilates. Because sometimes the whole is more than the sum of its parts.


Upcoming Montreal Cycle: Spring 2024
Current cycle – full
2023 Seminar Dates
Program Overview
With over 600 hours of practical and academic study, four seminar weekends with lead instructors directly from New York City, and 60 private and semi-private sessions, you'll become a bona fide expert in the classical system that was Joseph Pilates' life's work. As a 3rd generation instructor, you'll get to carry on his legacy.
Pilates starts here. Learn the practice the way "Uncle Joe" invented it.
Apply Now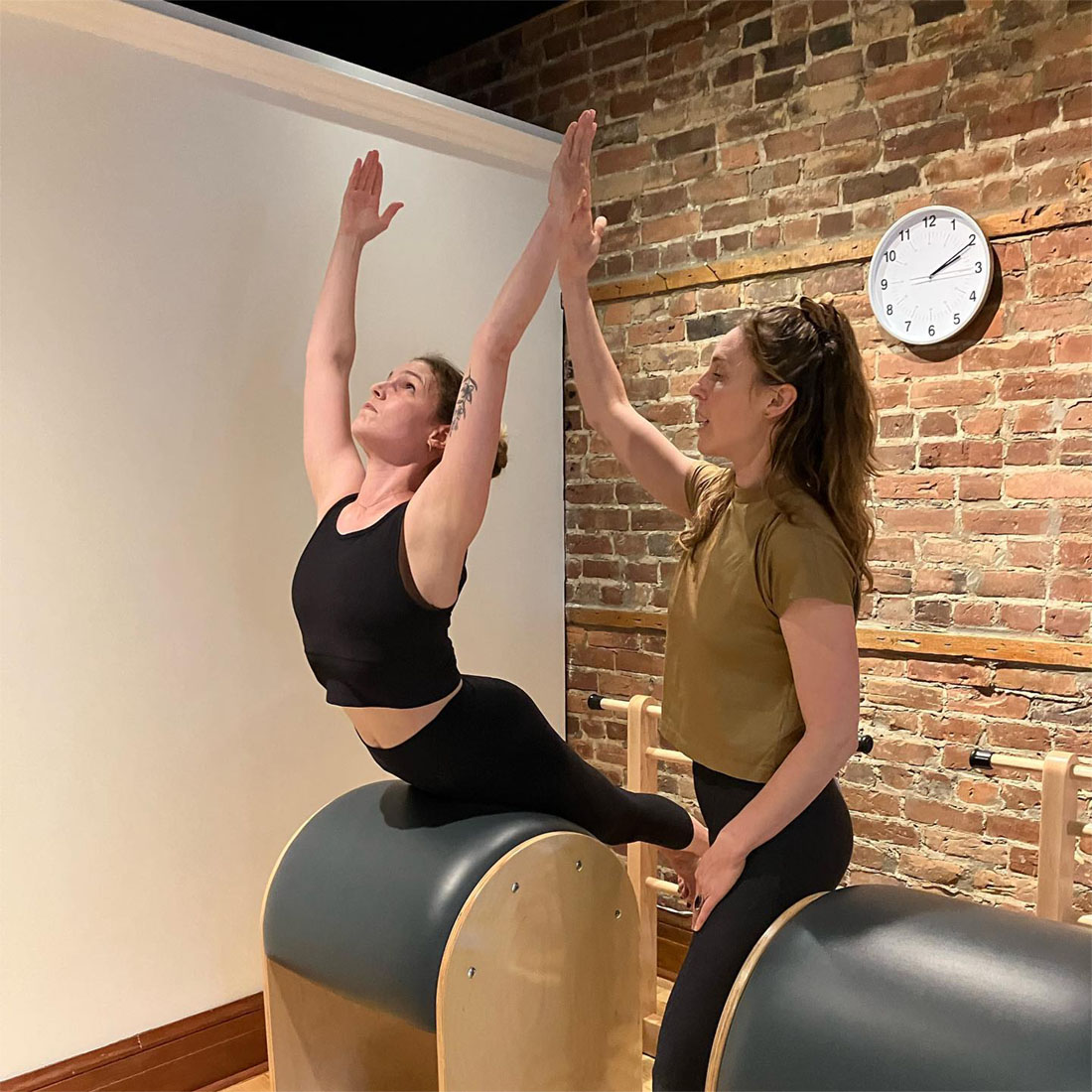 Program Breakdown
4 x 3-day seminars with Lead Instructors from Real Pilates New York City: Beginner, Intermediate I, Intermediate II, Advanced.
The applicant commits to 20 hours per week, which includes:
Practice Teaching at Espace Pilates (Privates and Group Classes)
Weekly self-practice at Espace Pilates
Weekly assignments to further train your observation skills and critical thinking.
Private and Semi-Private Sessions (2 per week)
Observation of Private and Group Classes at Espace Pilates and Online
Access to Group Classes
Test outs at each level to help keep you on track and guide you in your learning.
Program Prerequisites
In order to begin the Real Pilates Teacher Training Program, applicants must demonstrate intermediate-level proficiency in the classical Pilates repertoire. Generally, most successful candidates have been practicing Pilates before entering the Real Pilates Teacher Training Program. We are looking for the next generation of Real Pilates instructors who may be invited to work with our team upon graduation.
Applicants must complete a minimum of 30 sessions in Classical Pilates OR demonstrate proficiency in their assessment and interview. Additionally, an applicant should also be able to commit to 20 hours per week in the studio for their apprenticeship, finish weekly homework assignments, attend all four three-day seminars, and complete the required test outs during the 30-week program.
Tuition Fees
5750 USD
+ 2700 CAD
Tuition: 5,750 USD (Paid to Real Pilates New York)
Mandatory Training Package at Espace Pilates Montreal: 2700 CAD + GST/QST
The mandatory training package includes 60 sessions, two per week throughout the 30-week program. (20 privates and 40 trainee semi-privates)
Tuition includes a full apprenticeship, all seminars, manuals, exams, and much more!
Bridge Program for comprehensively certified classical Pilates instructors
4200 USD + Mandatory Training Package Bridge Program entry requirements here.
Testimonials
After teaching Pilates for over 10 years and being a Teacher Trainer for another school of Pilates, I feel like I finally learned how to teach Pilates thanks to Alycea Ungaro and her team, It was a lot of fun, a lot of work, and one of the best decisions I've ever taken!
– Denes Dreisziger, co-founder of Espace Pilates Montreal.
FAQ
How can I participate if I'm from outside of Montreal?
Please contact the Real Pilates teacher training program at realpilates.com.
I want to learn more about the Real Pilates teacher training program.
Learn about the Real Pilates teacher training program at realpilates.com.
I have a question for Real Pilates New York.
Submit your questions: realpilates.com/start-here.
I'm ready to submit my application!
Click on the button for the application form and mark Montreal.
I have questions about Real Pilates Teacher Training
Use the form below to submit your questions for Espace Pilates.